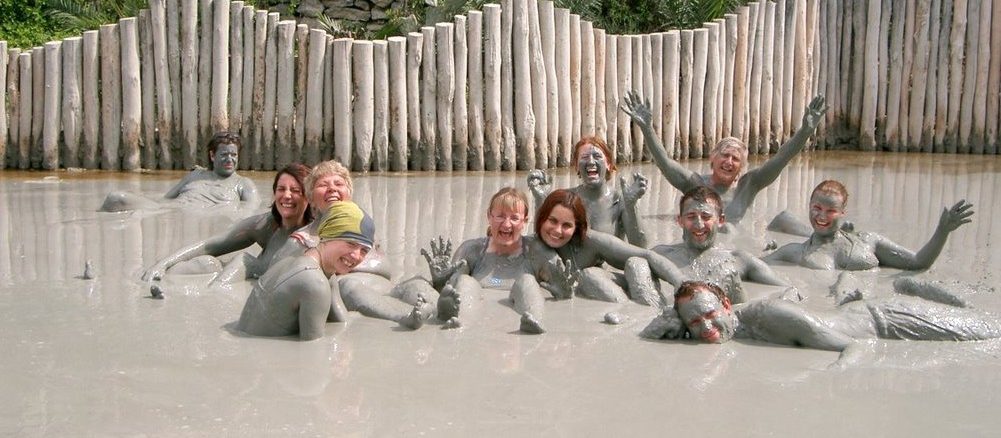 Dalyan Mud Bath or Dalyan Çamur Banyosu
Dalyan Mud Bath or Dalyan Çamur Banyosu "Beauty Mud" which not only cleanses and tones the skin but is said to remedy rheumatism and has anti-ageing properties. After allowing the mud to dry, it can be removed in a natural clear water sulphur pool, at temperatures of around 40 Celsius. This leaves you refreshed and relaxed.
DALYAN MUD BATH TO MAKE YOU LOOK TEN YEARS YOUNGER
Why a mud bath?
Believers in the power of the mud say that the tightening effect of the drying mud is what makes the difference. Regular mud therapy can help deal with wrinkles while the healing waters of the spring are said to be the answer to sciatica, rheumatism and stomach problems.
The mud bath, where generally foreign tourist get into the mud and have their photos taken, is always colourful and crowded but gives a good photo opportunity. You can immortalise this moment by posing for the camera before and after getting into the mud, which is supposed to have a beautifying effect on the skin but has also won a reputation engendering a sense of fun.
Take a boat trip from Dalyan to the mud and sulphur baths on the Lake Koycegiz side and wallow, hippopotamus style, in the warm, sticky swamp. It not only claims to have therapeutic properties (curing all manner of ills from skin problems to gastric conditions) but also claims to make you look ten years younger.
Once you have covered yourself in the mud you then wait for it to dry in the sun. The sulphur pool in which you clean yourself after your Mudbath is also at a temperature of 40 degrees.
Dalyan's mud baths have always been popular and some say that Cleopatra herself would make the occasional trip to the region just to visit these baths. The baths have been a magnet for the rich and famous down the years and in recent times celebrities like Dustin Hoffman, Sting, Jack Nicholson, David Bowie, Robert Maxwell and the Prince Felipe De Carlos of Spain have taken a dip on their visits here.