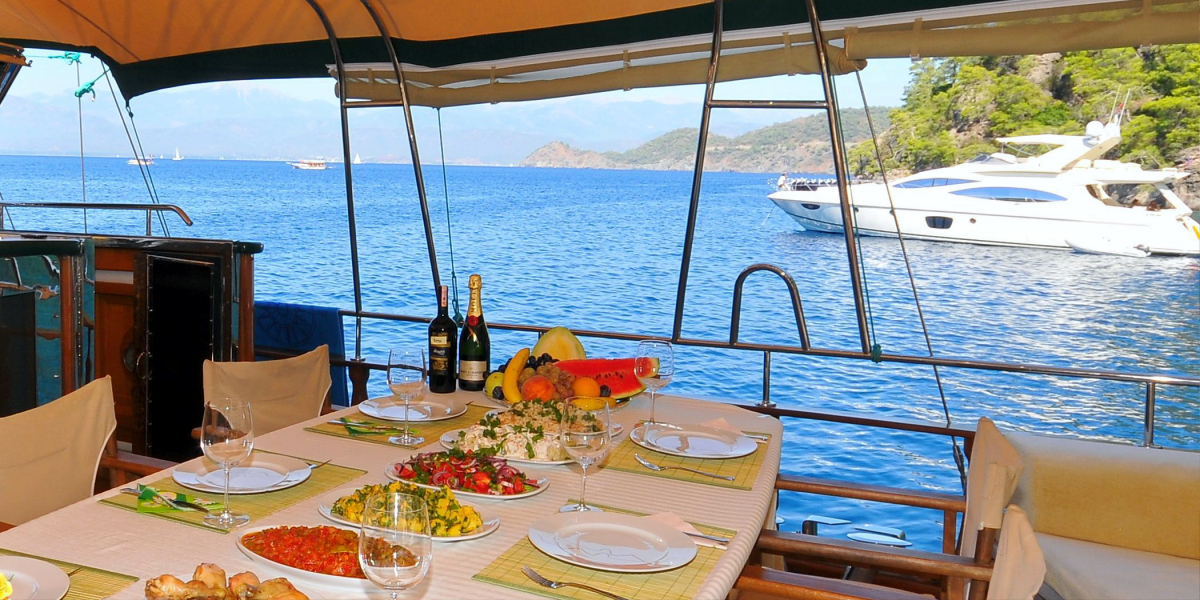 Here Is Why You Will Love Your Meals On Board
Here Is Why You Will Love Your Meals On Board – Boat Cabin Charter Meals on Board – Yacht Cabin Charter Meals on Board
As many yachting companies cut back on food service, Gulet Charter takes it up a notch.
Our chefs lend their creative talents and vast knowledge of Turkish cuisine. Their creations are simple and delicious, combining a focus on high-quality produce with carefully-defined flavors – perfect for our onboard service.
The menu will highlight the best of Turkish cuisine, allowing international travelers to get a taste of Turkey's culinary style and culture the moment they set foot on our yachts.
Our goal will be to showcase the best tastes of Turkey and the Med, using only the freshest ingredients the country has to offer. Travelers are in for a real treat!
Cruising embodies the best in all aspects of life: rolling waves, clear sea air, sunshine, exotic ports, excellent service, exciting entertainment, and gourmet food! The food aboard gulets is legendary, for its abundance, presentation and palatability. The rear deck of the gulet is the lounge and dining area where you will be served freshly prepared breakfast, lunch and dinner meals, including grilled meats, fish dishes, a variety of fresh salads and fruits and Turkish specialties. Afternoon tea is served with biscuits or cakes.
All meals are surprisingly good, healthy and nutritious. Dinner on the aft deck is usually the highlight of the day: a long leisure meal sitting under the stars and listening to the water lapping at the hull of the gulet.
You will never go hungry aboard our gulets! In all cabin charters meals are fully included (except soft and alcoholic beverages), served three times each day!
If you plan to celebrate an anniversary or birthday during your voyage, special arrangements may be made in advance. A special dessert, or a bottle of vintage wine or champagne, will help you create the perfect special occasion memory. Just tell us at the time of your booking!
Many charters will accommodate guests' special dietary needs, such as vegetarian, diabetic, low-fat, low-sodium, low-cholesterol, or kosher diets. Turkish cuisine has lot to offer for those who are vegetarian. Lots of fresh vegetables and fruits are available at the restaurants and on the boat. Please specify the dietary restriction, if there's something that client doesn't eat such as wheat products, sugar, nuts etc. If you require a special diet, tell us when you book your voyage, so we can be sure your voyage selection is able to meet your special needs. In addition, experienced voyagers will reconfirm their special diet requests soon after boarding the gulet.