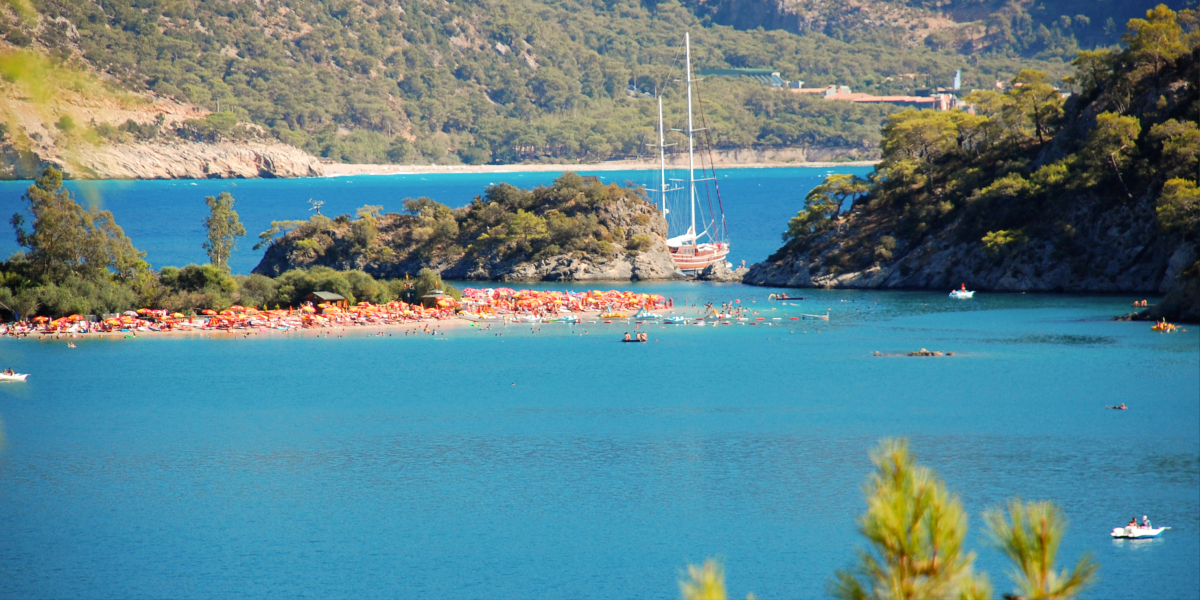 Insider Resources For The Best Blue Cruise
What alternatives exist in Blue Cruise ?
For the type of Blue Cruise we offer, you don't have to hold a skipper's license, nor do you need to be an avid sailor. We provide you with a traditional wooden yacht which you charter with crew. If you cannot get a group together so as to take your own yacht, you still have the opportunity to join one of our weekly cabin charter cruises. You might even like to go for something racier, like a standard-sized bareboat with an English-speaking skipper.
Which season is best for Blue Cruise ?
The Turkish western Mediterranean region is known worldwide for its near-perfect sailing conditions–the water is always warm and there are plenty of beautiful islands to visit. Many people travel via yacht each year to the Med to take part in annual races or simply enjoy the sailing season. Of course everyone is different and is looking for different things from a holiday. Children, your work commitments and age (!) all affect when you are able to go on holiday. The months of May and October offer excellent sailing conditions and the opportunity to go trekking or fishing. And here is a special offer for those of you who want to have an early start to the summer 2006. Click here for more information. The months of June, September and October is the best time to explore the western coast islands and bays of southern Turkey. Rain is rare. It is the most pleasant time of the year. It is also before / past the high season for the region's tourism industry, which reaches its peak during July and August. September and October offer good winds, although variable, and summertime temperatures during the day with pleasant nights. You can swim through the middle to end of October comfortably. Between end of July and August, Turkey is extra busy with the height of summer bringing thousands to the coastal regions. July and August days are long and hot, and the nights are warm.
What to take on a Blue Cruise ?
Most of the time will be spent in a bathing suit, so it is a good idea to bring at least two! For land trips, a pair of long, light trousers and a shirt are advisable. Evenings may be cool, certainly during the earlier and later months of the year, so you are best to bring a pullover and a windbreaker. We also suggest you pack your beach towel (not provided on board), plenty of suncream, snorkels/flippers/goggles if you plan on doing lots of snorkelling and a sleeping bag if you are planning to sleep on deck. Bed linen and towels for use in the cabins are provided and you should expect a set of sheets during the hot summer months and a bottom sheet and a pique (thick cotton sheet) during the spring and autumn months. Your Turkish crew may not have a thorough knowledge of English, so you might be advised to take a small traveller's dictionary along with you for the Cruise. Besides being understood more easily, it is also a great way of picking up a few words of Turkish. We suggest you bring your belongings in a collapsible bag, rather than a suitcase, as bags are much easier to stow away, and also serve to limit how much you pack! You may like to bring a light day pack for excursions ashore. If you're on a prescribed medicine take them with you; you may not find the same medicine in Turkey. One final word of advice Normal street shoes are definitely not acceptable on board a yacht, we suggest you to bring soft-soled shoes for getting around on deck.
Is Sailing possible on Gulet ?
Gulets are motorsailers Equipped with motors and with sails. Their top speed is just a very leisurely 8-10 knots. Generally, gulets will rarely sail, which means no participating in the actual sailing or manoeuvring of the yacht, so sailing instruction is not an option, yet some gulets (due to a different construction) sail really well. On smaller charters (standard sailing yachts) you will often sail the yacht together, which enhances team spirit and gives you the change to learn how to sail.
What itinerary should I choose ?
It is rare that a day goes by without someone asking, where is the best place to charter? Admittedly we are biased towards the eastern Mediterranean. Most of all we recommend the cruising ground in the south eastern coast of Turkey stretching from
Marmaris
to
Fethiye
. There is so much to see and do that it pays to have at least a tentative itinerary. And for most people it takes years to really explore everything this area offers. There are islands that are awaiting exploration throughout this cruising area whether you begin your trip from
Marmaris
or from
Fethiye
. You will find hundreds of harbors and islands to explore. One-way charters are also available between the ports of call.
What about Scuba Diving ?
The diving area around
Fethiye
and
Marmaris
offer some of the best preserved dive sites in the Mediterranean. Scuba Diving in Turkish waters is permitted only under the guidance and supervision of a licensed dive guide. In keeping with these and other government regulations, we can arrange your diving days during the Blue Cruise lead by experienced dive masters, all of whom hold licenses endorsed by Turkish and international authorities. The main dive bases are in
Marmaris ,
Fethiye , Bodrum and Antalya
from which we arrange scuba diving. Both bases offer everything one would expect from and international dive center. All equipment is in excellent condition and 10 or 12 litre Scuba tanks and DIN / INT connection parts are in good supply. In order to participate as a diver, guests must have a recognized diving license and a current medical report. It is possible to both hire equipment from the base or bring your own.
Tipping
Tips are not included in the price of your tour. Customarily, participants wish to tip the minibus driver, guide, and yacht crew if they did a very good job. These gratuities are completely at your discretion. Guidelines based on past experience suggest $2 per guest per day for your driver, $10 per guest per day for your guide(s) and $10 per guest per day as a pooled tip for the yacht crew. Tips should be in cash.
Passport & Visa
Most passport holders can apply for an electronic visa to enter Turkey by filling in the Electronic Visa (e-Visa) Application online
https://www.evisa.gov.tr/en/
Please note that while we try to keep all information accurate, requirements do change and we cannot be responsible for any changes. If you are concerned, please check with us or with the relevant tourist office.
Duty Free
Arrival in Turkey
You are allowed to bring in 400 cigarettes, 50 cigars, 200 grams of tobacco, 1 1/2 kilograms of instant coffee, 500 grams of tea, and 1 liter of alcohol. Register all valuable personal items in your passport at your embassy on entry. Items in the duty-free shops in Turkish airports, for international arrivals, are usually less expensive here than in European airports or in flight.
Departure from Turkey
Same as arrival you are allowed to take same quantity of goods with you (as eu duty free agreement). As a foreign visitor, you can claim back the tax you pay on your purchases and receive immediate cash refund on departure at most international ports of Turkey. For more information visit
https://www.globalblue.com
Time in Turkey
Turkish time is UTC+3:00 year round, which is also called Turkey Time TRT. Turkey Time TRT was adopted by the Turkish Government on the 8th of September 2016. During summers TRT time is the same as with the EET, while an hour ahead of EET in Winter and other the partial half of other seasons.
Transportation in Turkey
The intercity buses in Turkey are usually of very high standard (Mercedes model coaches, and all air-conditioned), but if you travel on a smaller bus, it might not have air-conditioning. Drinking water is always served on midi buses and large buses free of charge. Also an attendant will offer Lemon cologne or tissue for refreshment, it is very typical in Turkey. The largest bus companies like Ulusoy, Pamukkale, Varan and Kamil Koc are serving most of the routes. You can buy the tickets from the bus station or one of the bus companies offices in Marmaris, most of which are located in Tansas supermarket area. Local 'Dolmus' minibus runs to the center of every resort in Turkey, fee is approximately 25 – 45 pence. There are bus stops along the route, as of 2001 the minibuses stop only at those stops. Taxis are recognized by their yellow colour. The fare shown on the meter reads according to the distance travelled. Better take a dolmus still – taxi is expensive in resorts!
Money in Turkey
In resorts there are ATM machines near every bank and large shopping centers and supermarkets, also in most places you will be able to pay by credit card, be it a shop or a restaurant. Most Turkish banks charge commission on cash back and cash advances so may be asked to cover this cost. Also most places accept foreign currency for payments. You can cash your Travellers cheques at any exchange bureau, however check the commission rates, as the exchange rate displayed outside is usually the Selling rate. You can also check the daily rate of Turkish Lira on our website.
Banks
Opening Hours: Mon – Fri 09.00- 12.00 and 13.30 17.00 Certain Banks open on Saturdays half day and during lunch hours. Exchange Offices are open everyday until around 11.00pm. Foreign Currency, Travellers Cheques, and Credit Cards are accepted in Turkey except the Scottish Pound and torn or damaged notes.
Communication & Phone System in Turkey
Turkey has international direct-dial telephones, telegraphs, telex, facsimile, and express mail. You can place international calls quickly and easily from your hotel. As hotels sometimes add service fees to telephone charges, it is wise to ask about cost before you call. City newsstands carry most international publications. Public telephones are conveniently located throughout the country. Pay phones are available operated with telephone cards, recognized by the green color and Turk Telecom sign on them. The telephone cards are sold at the post offices, small markets, book stores.
Electrical Appliances in Turkey
The voltage is 220 Volts AC in all parts of the country.
Sun Protection
The temperatures rise to a high of 48oC in August so high factor suntan lotion is essential. Keeping hydrated with water only is a must! Children should be well covered with hats and hydrated.
Medicine & Health Services
In the resorts there are private and state hospitals and many private clinics. Medical facilities are up-to-date and equipped to cope with the majority of medical problems. There are multilingual doctors and dentists all around the resorts open during weekly business hours. For emergency medical care, you may contact our office or your captain to request a doctor's visit in port. If you're on a prescribed medicine take them with you; you may not find the same medicine in Turkey.
Shopping in Turkey
Turkey is known by many as a shopper's paradise with rich variety of the craft mean that it is impossible to resist buying. Main shopping resorts are Fethiye, Bodrum, Marmaris, Antalya, Alanya, and Istanbul Grand Bazaar. Unlike a European country there is a great range of places in which to shop in Turkey, from modern boutiques to colourful bazaars and bustling markets. In virtually every instance, carpets, fine leather, precious jewelry, gold in particular are a better buy here in Turkey than they are in other parts of Europe.
Turkish Language
Most of the Turks you will meet — crew members, hotel and restaurant staff, shop-keepers will speak at least some English, and many will be fluent. German, French and Russian are also widely spoken in Turkey.