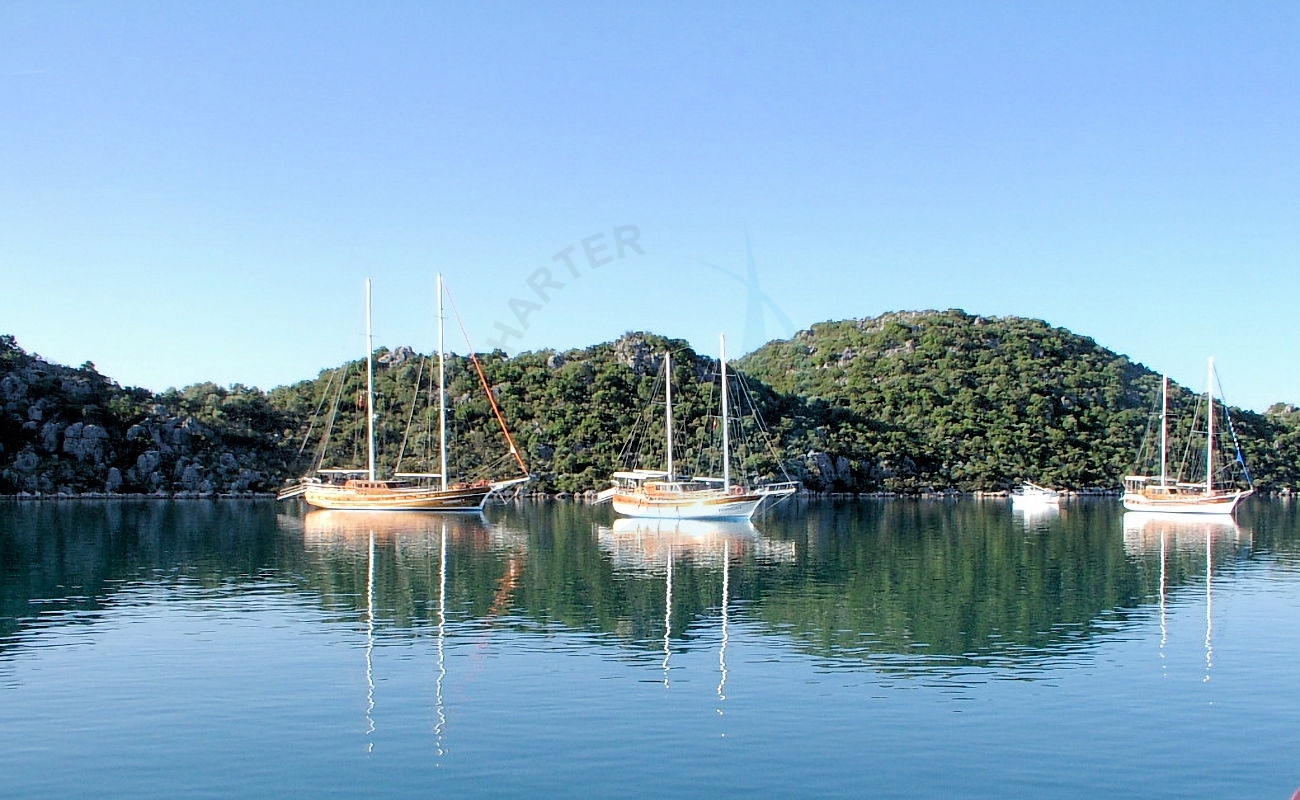 What is a Gulet
What is a Gulet. The gulet is a practical and traditional vessel that exudes a relaxing atmosphere that epitomises the Blue Cruise. Its rounded stern, low-to-the-water profile, and spacious hull are well-known and were originally used by fishermen and sponge divers to transport their products. Gulets have come a long way since they were first used as traditional fishing and cargo ships, and now feature a widened deck and broad beam. Nowadays, gulets are primarily linked with chartering, and a variety of distinct designs have arisen, all of which are encompassed by the general category of the wooden gulet.
The classic Gulet possesses a rounded stern, however, due to the design's restricted capacity to accommodate cabins, the "Ayna Kic" (flat-backed) Gulet style has become progressively favoured as a charter boat. Every gulet is fashioned by hand in Turkey, and production takes almost a year. These boats, measuring between 18 and 27 metres in length and 5-7 metres in width, are predominantly constructed in Bodrum, Bozburun, Marmaris, Fethiye and Istanbul shipyards and along the Black Sea coastline. Each boat boasts a fully operational rigging system and engines.
With 4-10 private wooden cabins available, these gulet cabins can accommodate up to 20 individuals with their own private bathroom facilities. The popularity of these cabins can be attributed to their uniform size amongst vessels and the option for a double berth or a single upper and double lower berth within Blue Cruise in Turkey. Each cabin is equipped with a wardrobe for hanging clothes and several drawers, as well as storage space for bags and bulky items. Additionally, all cabins come complete with en suite bathrooms, fitted with a pull-out shower hose that is attached to the sink. You can expect to find bath and hand towels, bed linen, and a blanket provided for your comfort during your stay. All cabins are powered by 12-volt electricity, with the electricity on most Gulets running on 12V/24V. Please keep this in mind if you wish to bring any battery-operated or electric equipment such as shavers, videos, or portable PCs. While guests are welcome to bring their own hairdryer, the optimal way to dry hair in this area is by natural means – under the sun!
Electricity in the ports is supplied at 220 volts.
The Gulet's living quarters comprise an indoor lounge (some vessels possess an enclosed aft area) and an aft deck where guests can dine and recline under the shade of a sun awning. Guests can also make use of the front deck of the Blue Cruise in Turkey Gulet, which features numerous sun loungers that can be sheltered by a canopy when the yacht is at a standstill.
All yachts feature a bar where guests can purchase alcoholic and non-alcoholic beverages at modest prices, a lounge and dining area, a music system, a sun deck, and sun loungers.
The aft deck of the Gulet serves as the dining and lounge area where guests can relish breakfast, lunch, and dinner meals. These freshly prepared dishes include grilled meats, fish, salads, fruits, and Turkish delicacies. Notably, all meals are incredibly nutritious and delectable. An evening meal on the aft deck, under the starry sky and accompanied by the soothing sounds of water lapping at the hull, is often the highlight of the day, providing a leisurely experience.
Gulets offer great opportunities for water sports, equipped with windsurfers, fishing gear, snorkeling equipment and canoes for your enjoyment. If snorkeling is one of your preferred activities, we recommend bringing your own gear to ensure a perfect fit. This will allow you to explore the depths at your leisure during your Blue Cruise in Turkey aboard a Gulet.
All yachts come with a tender that has either oars or an outboard engine. Yachts that provide the option of waterskiing boast a powerful outboard engine, while others are outfitted with outboards designed only for returning to shore.
All yachts possess the necessary safety equipment, including a VHF radio and stereo cassette player, as well as a cassette collection. The majority of newly built vessels also include a mobile phone, television, video player, and CD player.