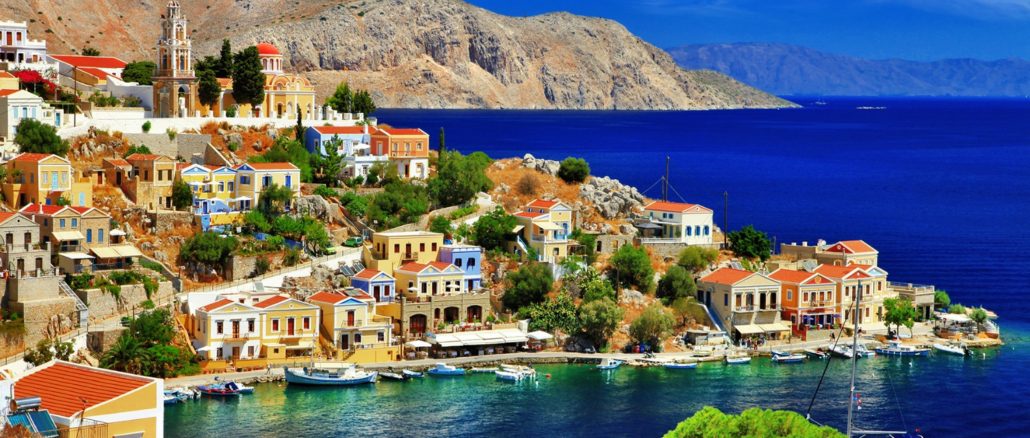 Symi Island Greece
Symi Island Greece, is located in the Southern Dodecanese, north of Rhodes and close to the coast of south-west Turkey.
Symi is just over 13 km north/south and about 8 km east/west with an area of some 68 square km.
Symi is divided into distinctive areas – Yialos is the main harbour. Chorio, literally 'village', is the top town. Pedi Bay is the valley below Chorio, south of Yialos. Nimborios is the bay and settlement to the north of Yialos. There is a small settlement at Marathounda and a major Monastery complex at Panormitis. The interior, a forested plateau with many spectacular views, can be visited by car or bike on the recently refurbished road from Symi town to Panormitis.
There are also many interesting walks and guided walks can be arranged through tour operators in Yialos or walking guides can be purchased from the Symi visitor office.
History in a Nutshell
Symi's recorded history goes back as far as the Trojan Wars (1120 BC) and its past is chequered, with a series of invaders, beginning with the Dorians from the Pelponnese (6th-7th century), the Romans, some two or three hundred years afterwards, the Turks (1522-1912) and the Italians (from 1912 until World War 2). Symi then became a strategically important island and was subsequently invaded – and bombed – by both the Axis and the Allies during each others' occupations. Finally, in 1947, Symi along with the rest of the Dodecanese islands became part of the Greek nation.
At its height – before the Italian occupation – Symi was a thriving island with a population of more than 22,000. It was renowned for its boat-building, sponge-fishing, wine-making, its wood-carvers and icon-painters and the outstanding educational quality of its schools.