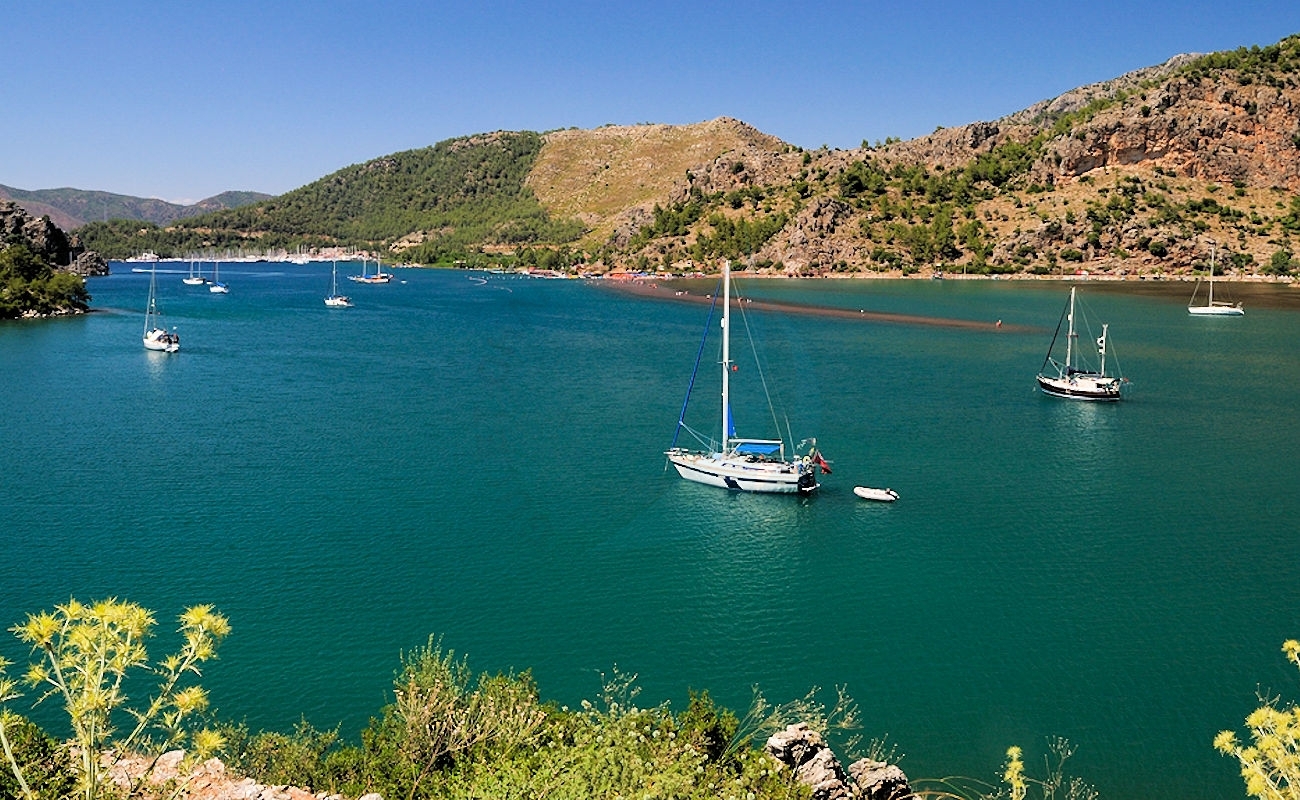 Orhaniye Bay
Orhaniye Bay, with its sand, island, high mountains, forests and green areas, is a bay where you can live without going anywhere.
In the middle of the bay is Castle Island. On the island are the ruins and walls of the Byzantine castle. Leaving the island to starboard and heading west, the wide sheltered bay between the shore and the island is an excellent anchorage. If you wish, you can anchor in 8-10 metres of water. You can stay in the algae. At the same time you can drop the anchor and take a seat on land. However, as the ground is muddy, the anchor holds well, it is a large area and it receives sweet winds even in the most humid weather, the Alarga is more suitable and boats usually stay there. From here you can also see the rabbits of the island. There is a sandbank to the north-east of the island, which makes the passage between the island and land quite shallow.
There are restaurants and tourist facilities on the east coast of the island. On the Marmaris – Bozburun motorway, which passes behind these facilities, there are also markets and a nautical supplies shop. There is also a new facility on this shore where you can buy a safe and moor. There are typical bungalows for accommodation in the facility with all facilities.
If you follow this coast south, you will come to the famous Kızkumu. It is a very busy area. Jeep safari tours stop here and guests take a walk in Kızkumu. From the small jetties in this area, daily tours are organised to the coves of Hisarönü Bay. The 430 metre long Kızkumu, which is walked on, extends to the end of Orhaniye Bay. Two azmaks flow on the east side of this sand and this area is quite shallow. It is risky to pass this side by boat, except for those who know the area well.
One azmak flows in the last part to the south of Orhaniye Bay. This is where the piers and restaurants are. In this part of Orhaniye Bay, you can generally anchor anywhere and you can easily go with the tide. The bottom is iron. The best part of the bay to stay in is the western part.
There are 6 wooden piers in Orhaniye Bay, where you can moor your boat. These piers have a total capacity of 95 yacht moorings.
The village of Orhaniye, which dates back to 300 BC, consists of Kecibuku and the Central Neighbourhood. The old name of the Greek village, which has typical Mediterranean features, was "KİRVASIL", which means "Vasil of Kırsaçlı".
Apart from Kızkumu, the ruins of the ancient city of Bybasos and the Bayır Waterfall, 8 kilometres away, can be seen in the region.