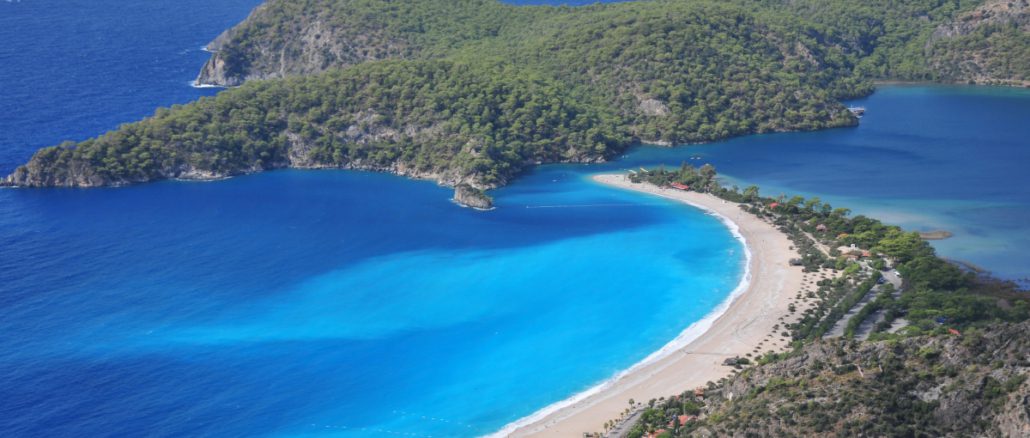 Oludeniz or Ölüdeniz
Oludeniz or Ölüdeniz is a stunning bay, with a laid-back atmosphere, one of the most beautiful beaches in Turkey. There are two parts of the beach,1st. public part which called Belcegiz and 2nd. part is natural park which called Blue Lagoon. It's lagoon, now a protected area, has understandably adorned a million picture postcards. Oludeniz's main beach is bordered by an attractive promenade lined with small shops, cafes and restaurants making it ideal for a classic beach holiday. However the surrounding area has much more to offer an adventurous visitor. Paragliding from the heights of Babadag Mountain , trekking along the Lycian Way, a boat trip to the Butterfly Valley, visiting some of the sites such as Xanthos, Tlos and Letoon are among the many possibilities.
There are restaurants to suit everyone's taste. The standard is excellent and you really are spoilt for choice and if you do get bored from the Turkish cuisine, then there are plenty of restaurants to choose from that serve international cuisine. Oludeniz has an unique style when it comes to night life! Most of the bars lined up right along the promenade so they are overlooking to beach. This beach culture brought up the "beach bar" culture, relaxed, easy-going and fun!..