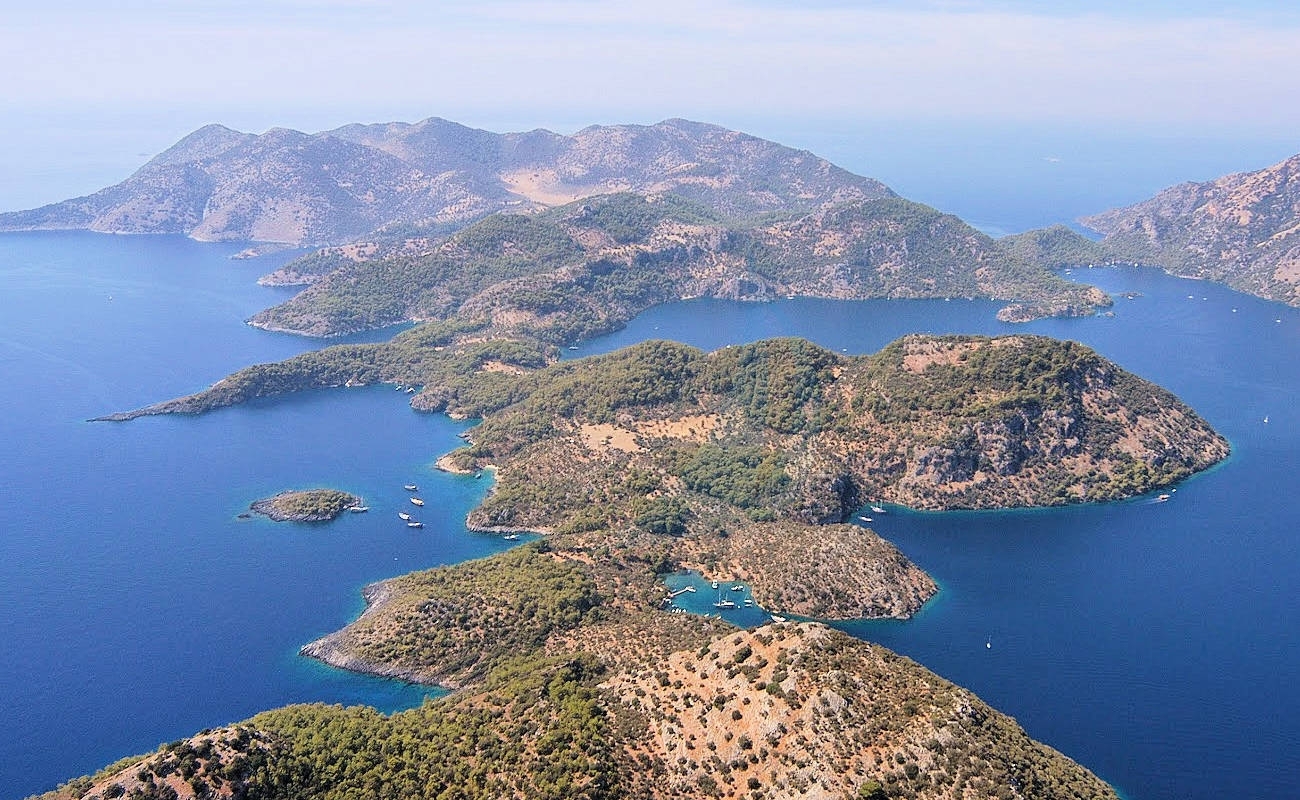 Gobun Bay
Gobun bay is the most protected bay in Gocek, functioning as a winter harbour and inaccessible during inclement weather. It attracts numerous yachtsmen during the winter season. Sarsala Bay, located nearby and connected to Dalaman by road, provides a reliable source of supplies.
The small and narrow bay is sheltered by two high hills, making the entrance difficult to spot unless one is observant.
The depth gradually decreases from the entrance. The harbour has a mean depth of 5-7 metres, and the bay's western side is entirely shallow. Due to the limited manoeuvring space, large vessels are unable to access the narrow harbour, and the sole area available for anchoring is the inner
section of the hill on the starboard side of the entryway, which boasts a small quay and often has fixed boats stationed there. Legend holds that there are submerged ancient ruins situated beneath the bay's shallows. Perhaps a couple of boats could be accommodated.
Across Gobun Bay's entrance is a restaurant boasting sizeable docks, both on the port side and in front of it. These docks can host up to 40 vessels attached by vaults. Additionally, an older dock is situated behind the easternmost one. The shallows and rocks of the latter extend towards the wooden pier's front. Notably, the area near the restaurant's side comprises a relatively shallow depth. It is advisable to approach the jetty from the start. Beware of potential collision with the rocks due to motor yacht waves when you think the depth is adequate. Despite the long wooden paserellas provided by the restaurant managers, exercise caution.
This establishment represents the first restaurant of Gocek Bays. For years, a couple from Kayakoy has managed the restaurant, but their family has recently expanded its facilities. Solar energy panels and connected battery groups-inverters provide the restaurant's electricity needs in the non-electrified bay. The absence of a generator ensures peace and quiet in the bay, which also features a male barber by the sea. Water sports services are also available at the bay, which is
encompassed by olive and pine trees. Ruins are located along the western coast. By taking the small path from the beach to the hills, visitors can admire the Gocek Bays from a higher perspective, particularly during the evening.