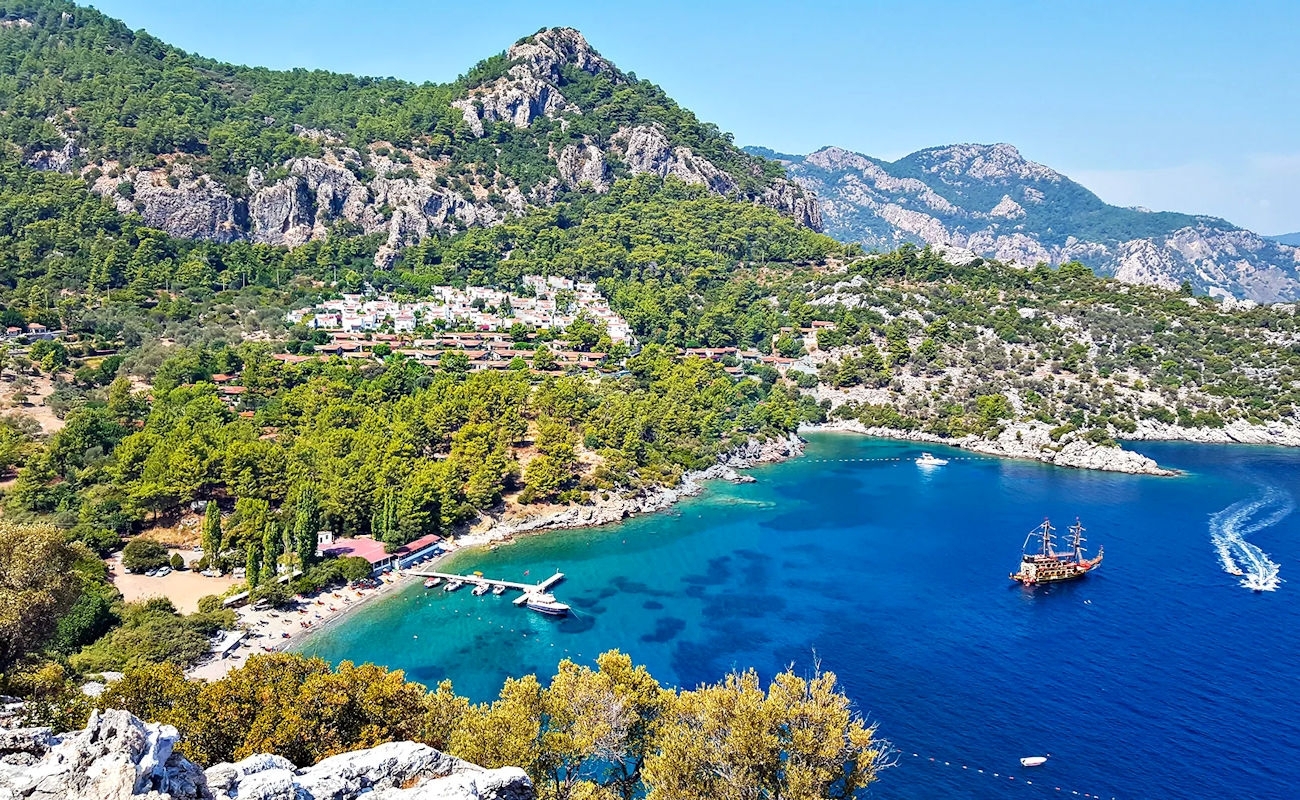 Amos Bay
Amos Bay is located between Asarcık Cape and Zeytinburnu and west of Kargataşı Island. Amos bay is called Gökçe Bay on maps and is also known as Asarcık Bay.
It is a small and very beautiful bay in the middle of the mountains covered with pine and olive trees surrounding the bay.
The mouth of the bay is open to the east. It is sheltered from other directions. There is no danger at the entrance of the cove.
In the cove there are two summer areas hidden in the nature.
The beach safety buoys of these sites have seriously closed the bay.
In the areas outside the buoys you can anchor on the sandy ground at 6-11 metres and stay at anchor.
A small tongue juts out of the north of the bay. The front of this tongue is the safest place to land. Here it is possible to land from the stern, giving the land or the tongue a place to sit.
In the beach area there is a wooden T-shaped jetty.
This jetty has a capacity of 5 yachts. Electricity and water are also connected to the jetty and as there is no arch, it is possible to anchor at 4 metres and approach the land from the stern.
Due to the high density of people on the beach and on the pier during the day in the summer season, it is advisable to dock after 17.00. Pier Restaurant
It is located in an atmosphere that dominates the bay through the greenery. Amos Bay has an excellent beach at this location.
From here you can walk to the ruins of Amos on Asarcık Hill. It was built in the Hellenistic period in the region which experienced the Persian, Alexander and Byzantine periods,
There are ruins of a theatre, temple and sculpture surrounded by walls.
Amos Bay is 3 kilometres from Turunc, 11 kilometres from Icmeler and 25 kilometres from Marmaris by road. There is a frequent minibus service.
At the end of the summer, there is a high density of daily excursion boats during the day.
If you want to enjoy the magical surroundings of the bay in a quiet way, it is more appropriate to stay outside the hours of 10.30-16.30.
At the same time, behind the tongue to the north, there is a perfect private anchorage that can accommodate only one boat. Cast to 8-10 metres
It can be landed from the stern into the narrow area by taking two seats from the anchor and landing.
Amos Bay is a perfect bay, it is one of the most beautiful places to live when it is not busy.